MOCA Toronto to present major group show, Age of You featuring over 70 contributors
Curated by Shumon Basar, Douglas Coupland and Hans Ulrich Obrist
Opening September 5, 2019, and on until January 5, 2020
If you're wondering why the inside of your head feels so strange these days, this exhibition is for you.
TORONTO, August 14, 2019 — Age of You is a timely exhibition about how the self has become more extreme, and what it means to be an individual today. It is curated by Shumon Basar, Douglas Coupland and Hans Ulrich Obrist, with graphic design by Daly & Lyon and over 70 visual contributors from the worlds of art, design, filmmaking, photography, performance and electronic music. Age of You has been commissioned and produced by MOCA Toronto.
Guess what this century's most valuable resource is? It's you — and all your online behaviours, enriched data sets and millions of meta-data points.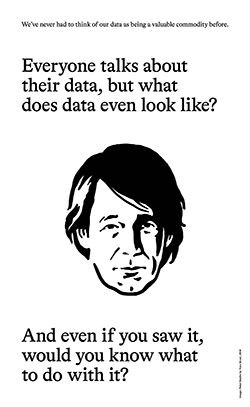 In this process, a large part of you is extracted from you, and now exists everywhere and nowhere, independently of your five senses. Are you really built for so much change so quickly? And what if individuality is in fact morphing into something else?
Age of You previews a forthcoming book by Basar/Coupland/Obrist, The Extreme Self, a sequel to their acclaimed previous title, The Age of Earthquakes: A Guide to the Extreme Present (2015).
Visitors to Age of You at MOCA will walk through 13 immersive chapters that chart how individuality is changing today, from the psychological (such as beauty, belief and empathy) to the social (work, wealth and democracy). In this graphic print space, wry words and slogans by Basar/Coupland/Obrist are juxtaposed with wildly eclectic portraits by:
Agnieszka Kurant, Amalia Ulman, Amnesia Scanner, Ana Nicolaescu, Ania Soliman, Anna Uddenberg, Anne Imhof, Asad Raza, Barry Doupé, Bogosi Sekhukhuni, Cao Fei, Carsten Höller, Cécile B Evans, Chen Zhou, Christine Sun Kim, Craig Green x Moncler Genius, Dennis Kavelman, Dominique Gonzalez-Foerster, Emmanuel Iduma, Farah Al Qasimi, Fatima Al Qadiri, GCC, Goshka Macuga, Heman Chong, Ian Cheng, Isabel Lewis, Jarvis Cocker, Jenna Sutela, Johannes Paul Raether, John Menick, Jürgen Klauke, Koo Jeong A, Lawrence Abu Hamdan, Liam Gillick, Liam Young, Lorraine O'Grady, Lucy Raven, Lynn Hershman Leeson, Michael Stipe, Miles Gertler, Miranda July, Momus, NVIDIA Research, Pamela Rosenkranz, Pan Daijing, Paul Mpagi Sepuya, Peter Saville & Yoso Mouri, Philippe Parreno, Pierre Huyghe, Precious Okoyomon, Rachel Rose, Raja'a Khalid, Samuel Fosso, Sara Cwynar, Satoshi Fujiwara, Simon Denny, Sissel Tolaas, Sophia Al-Maria, Stéphanie Saadé, Stephanie Comilang, Suzanne Treister, Tabita Rezaire, Thomas Dozol, Thomas Hirschhorn, Trevor Paglen, Urs Lüthi, Victoria Sin, Wang Haiyang, Yaeji, Yazan Khalili, Yu Honglei, Yuri Pattison.
Interspersed with the book chapters are major works in film, photography, fashion design, sculpture and installation. Each articulates a salient aspect of The Extreme Self. These include several new commissions, such as a large-scale photographic sculpture by Satoshi Fujiwara that weaves around MOCA's columns. Artists, including Trevor Paglen and Agnieszka Kurant, as well as tech company NVIDIA, produce work informed by Artificial Intelligence and machine vision. Others, such as Toronto-born Victoria Sin and Vancouver-born Sara Cwynar, Sophia Al-Maria and Farah Al Qasimi, explore transformed perceptions of the self. Throughout Age of You, visitors will encounter a recurring presence of "the face," today's dominant data metric, as well as new ways in which crowds are being composed or computed.
A series of public programmes will run in parallel and expand upon the exhibition's themes. These include:
September 5: A conversation with exhibition curators Shumon Basar and Douglas Coupland and contributing artist Agnieszka Kurant, moderated by Joachim Johnson, creative director of Toronto's HXOUSE.
Once monthly beginning September 12: A collaboration with Digital Justice Lab to provide workshops around digital security, imagining feminist interfaces, and more.
October 5 to October 13: A specially conceived work by Canadian artist Stephanie Comilang titled It All Makes Sense, commissioned for the night of Nuit Blanche.
November 28: The Toronto debut of Victoria Sin's performance, If I had the words to tell you we wouldn't be here now.

Additionally, MOCA has partnered with HXOUSE to provide mentorship and have their Tenants respond to the themes in Age of You, creating a local graphic interpretation that will be shared during the exhibition runtime.
An evolved version of Age of You, a collaboration between Art Jameel and MOCA Toronto, will be presented at the Jameel Arts Centre, Dubai, in fall 2020.
Support for Age of You comes from Lindy Green Family Foundation and The Schulich Foundation.
Welcome to Age of You.
Biographies 
Shumon Basar is a Berlin/Dubai based Commissioner of the Global Art Forum, Editor-at-Large at Tank magazine, Contributing Editor at Bidoun, Adjunct Curator at Art Jameel and a member of the Fondazione Prada's Thought Council.
Since 1991 Douglas Coupland has written 13 novels. He is a columnist for the Financial Times, and since 2000, amplified his visual art production with a number of museum retrospectives, in Canada, The Netherlands and Germany.
Hans Ulrich Obrist is Artistic Director of the Serpentine Galleries in London. He has curated more than 300 exhibitions. His books include Ways of Curating, Mondialité, Somewhere Totally Else and Lives of the Artists, Lives of the Architects.
Daly & Lyon is the graphic design practice of Wayne Daly and Claire Lyon, producing publications, identities and exhibitions for clients including Institute of Contemporary Arts, Royal Academy of Arts, Remai Modern, Tate Britain, RIBA and Hayward Gallery.
About MOCA
MOCA Toronto reopened in the historic Tower Automotive Building, a former aluminium factory in September 2018. Located in the culturally rich Junction Triangle on Sterling Road. MOCA Toronto is motivated by the belief that museums can be culturally and socially useful. MOCA promotes exceptional artistic thinking and provides a community space for discourse and creativity.
Awarded New Culture Destination of the Year 2018 (North America) by Leading Culture Destinations, MOCA features work from both Canadian and other international, ascending and world-renowned artists.
Key partners bolster the museum experience, including a café by Forno Cultura and shop by Art Metropole. Additionally, MOCA is home to studio collaborations with Akin and the Ontario Science Centre, as well as the offices of the Toronto Biennial of Art.
MOCA is a not-for-profit charitable organization. The evolution of the museum is made possible through a unique alliance with Castlepoint Greybrook Sterling Inc., public sector funders, private donors, members, sponsors and a network of cross-sectoral partners. For more information on MOCA Toronto visit moca.ca.
For inquiries about interviews with curators and artists, please contact:
Danielle Lim
Marketing Manager
dlim@moca.ca
For press inquiries contact:
Rachel Hilton
Managing Director
rhilton@moca.ca