Learning Resources for Teachers
Introducing MOCA Educator Exhibition Resources! Use these guides to learn about MOCA's exhibiting artists and their work, either in the gallery or remotely in your classroom. They include curriculum connections, guiding questions, and additional resources to help shape conversations and extend learning.
Turn MOCA into your classroom
K–12 and post-secondary student groups of 10 or more are invited to engage with artwork by international artists across all contemporary art forms, debating and sharing ideas along the way. Join us for a guided tour or self-guided visit — or participate in one of our studio activities.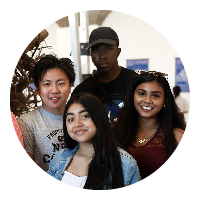 Explore. Engage. Enrich.
During their visit to MOCA, your students will have an opportunity to:
Converse, ask questions and think critically as they interpret artworks by local and international artists across all contemporary art forms
Consider new perspectives and issues that are relevant and urgent in today's world
Personally connect with the topics presented in our exhibitions
Learn about MOCA's adaptive reuse of a landmark heritage building and explore the culturally rich Junction Triangle neighbourhood
Guided tours offer students of all ages a closer look at our exhibitions. Led by one of our trained Visitor Experience Guides, they run approximately 45 minutes and are designed to foster discussion and exchange. Max. 30 people.
Guided Tour + Studio Activity
Studio Activities offer students of all ages a tailored, hands-on activity to deepen their understanding of the exhibitions' themes. Led by one of our trained Visitor Experience Guides, they run for approximately 2 hours, consisting of a 30-minute tour, followed by 90 minutes of artmaking. Max. 30 people and currently offered Wednesday mornings only.
Self-guided visits allow school groups to explore the museum however they like. Students may download audio guides for additional context, while MOCA staff stationed throughout the museum will be available to answer any questions they may have along the way. Max. 60 people.
"I was really impressed by our tour guide … her complex and thoughtful understanding of the exhibitions was evident. She tied in the themes we're exploring in the course and presented the content in a way that was engaging and responsive to the needs of the group."

—Mary Porter, Instructor, OCAD University
The following pricing applies to individuals in groups of 10 or more. For standard pricing, please refer to our Visit page.
Guided Tour: Additional fee of $60 per group applies
Guided Tour + Studio Activity: Additional fee of $160 per group applies
Contact us at learning@moca.ca for more details about your next guided tour.
Admission:
Adult (18+): $8
Student with ID (18+): $5
Senior (65+): $5
Under 18: Free
Guided student tours include up to 3 free adult tickets for chaperones.
School Visits with the Toronto Biennial of Art Schools Programmes
April 6, 2022 to June 1, 2022
Visit Jeffrey Gibson's exhibition I AM YOUR RELATIVE at MOCA, as well as interconnected artworks at the Toronto Biennial of Art (TBA), a close walk away at 72 Perth Avenue. TBA School Programmes are participatory, inquiry-based learning sessions that are offered both virtually and in person every Wednesday for the run of the Biennial. Led by TBA Storytellers, each session begins with a tour, followed by a workshop and discussion.
In-person Storytelling Sessions run for 3 hours in length, including breaks. 
Virtual Storytelling Sessions run between 60–90 minutes in length. 
Book an in-person or virtual visit through the TBA Booking Form. For more information on the Storytelling Sessions, visit the Toronto Biennial of Art School Programmes page.
For questions, please contact programmingandlearning@torontonbiennial.org or learning@moca.ca.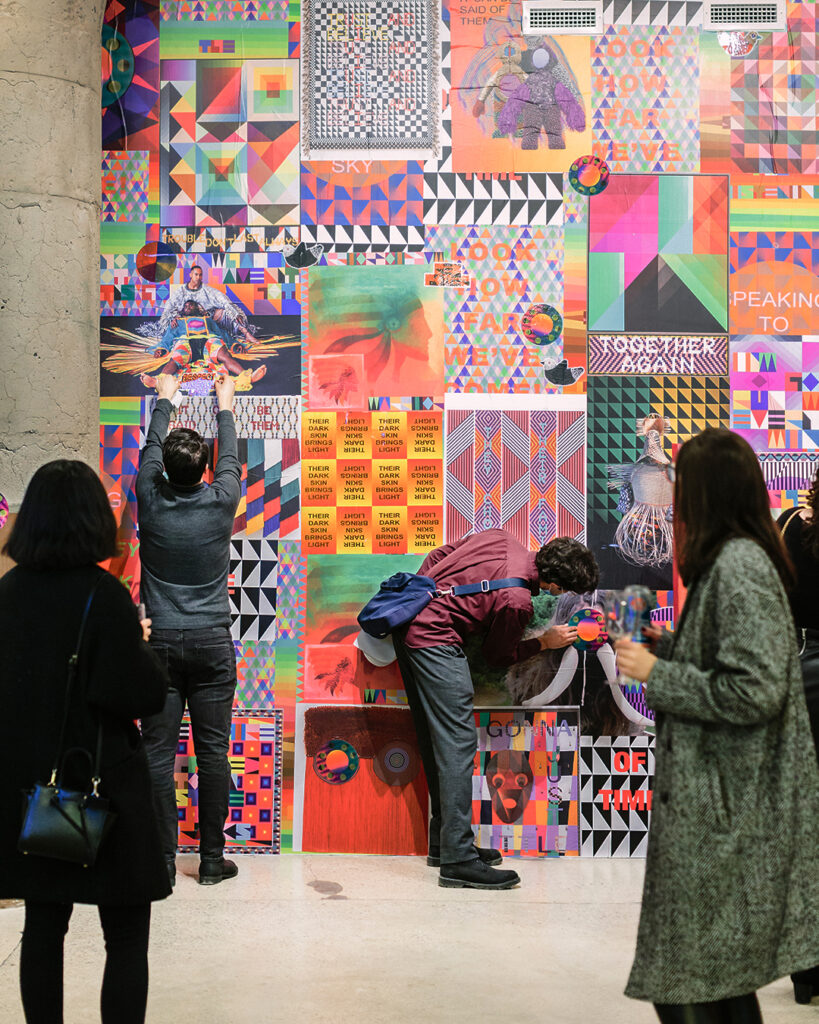 If travelling by bus
Buses can pull up in front of the museum on Sterling Rd. for drop off and pick up only.
If travelling by public transit
MOCA is located near both Lansdowne and Dundas West stations on the TTC's Bloor subway line, as well as the UP Express–Bloor station. We are a 10-minute walk away from all three stations. Please note: Dundas West is an accessible station, while Lansdowne is not.
The closest streetcar stop is at the corner of Dundas St. West and Sterling Rd., which can be reached by both the 505 Dundas and 506 Carlton streetcars. We are a 5-minute walk north from the streetcar stop.
 
When you arrive
Upon arrival, enter the museum through the main front doors on Sterling Rd. Teachers and/or chaperones may proceed to the Welcome Desk to check in and purchase or print their group tickets. You will be greeted by a Visitor Experience Guide who will provide your group with an introduction to MOCA and walk you through some housekeeping notes (lockers, coat rack, nearest bathrooms, gallery guidelines, etc.). If you have booked a guided visit, your Visitor Experience Guide will bring the group to the south end of Floor 1 to begin the tour.
Teachers and/or chaperones are responsible for their students during the entire visit. We recommend a supervisor-to-student ratio of 1:10. Supervisors are asked to ensure that their students are mindful of both artwork and fellow visitors, keeping noise levels low wherever possible.
MOCA does not have a lunch space for school groups and does not have water fountains available, so be sure to bring food and pre-filled water bottles for your visit. Food and drink are permitted on Floor 1 only.
 
MOCA's café partner, Forno Cultura, is located on Floor 1 and offers light fare such as sandwiches, biscotti, coffee and a range of beverages.
 
The Drake Commissary (128a Sterling Rd.) is nearby and serves coffee, beverages, pastries, and a few ready-to-eat items, in addition to their full dine-in menu.
 
A few fast-casual options are within a 10-minute walk from the museum, including KIBO Market (Bloor St. and Symington Ave.), Tim Hortons (College St. and Lansdowne Ave.), and Starbucks (Dundas St. W and Roncesvalles Ave).
Banner photo by Gabriel Li.