The Museum of Contemporary Art Toronto is at the heart of the art ecosystem. MOCA will be ambitiously inclusive, interdisciplinary, and internationally renowned through our work with artists. A place for everyone to explore that provokes ideas and discussion and challenges the current cultural moment.
Artists, relationships, and experimentation are at the centre of everything we do. MOCA Toronto presents rotating exhibitions and programmes that prioritize twenty-first-century artistic production, primarily through commissioning new work. We foster active dialogue, participation and celebrate complexity; in order to serve as an inclusive cultural hub in this hyper-diverse city and world.
Equity, inclusion, and access
Artist-centered, interdisciplinary and process-oriented
Critical conversations and transformative work at our core
Reciprocal and relationship-based
Locally rooted and globally connected
Courage and Responsibility
This is an exciting time for the Museum of Contemporary Art Toronto. MOCA has undergone significant changes, internally and externally, that require a review of its strategic directions. This strategic plan outlines MOCA's new vision, mission, values, and strategic directions for the next five years and beyond.
As the world is changing, so is the role of museums. From COVID-19 to the wake-up calls around social injustice and racism to the climate crisis and digital transformation, museums are being called to respond to these changes with action. We continue to adapt and develop new partnerships and programming, establishing interdisciplinary collaborations because we know we cannot address the current cultural moment alone. We are also looking internally at transforming our staff, processes, and practices to be more equitable and inclusive.
Download our Strategic Plan to learn more about MOCA's vision for the future.
MOCA is a twenty-year-old institution that has experienced numerous iterations over the years. However, two main aspects have remained constant: 
The institution has served as an important gathering space in Toronto and Canada for artists to experiment, celebrate complexity, and offer thought-provoking responses to the current cultural moment
MOCA has been and is constantly evolving and expanding with our times
In September 2018, MOCA moved into the Auto BLDG, a purpose-designed home in a former industrial space at the heart of a new neighbourhood in the Lower Junction.
MOCA (formerly known as the Museum of Contemporary Canadian Art – MOCCA) has been celebrated for its incisive, artist-centric approach to programming and hospitable visitor experience.
At its former location on Queen West, the Museum functioned as a hub for creative exchange and played a critical role in shaping the city's contemporary art scene. Through a commitment to collaborative partnerships with leading like-minded artists, organizations, institutions and festivals from Toronto and further afield, MOCCA connected the city to national and global networks of peers.
MOCCA featured the work of over 1,100 Canadian and international artists, hosted 200+ exhibitions and welcomed 40,000 annual visitors. As the lease on Queen West came to an end, the need to move provided an opportunity to seek a larger space that could accommodate the Museum's ever-growing aspirations and significance.
MOCA's Annual Reports review all of the accomplishments that the Museum achieved with artists over the year with generous support from donors, members, partners, and volunteers. Each annual report also includes an audited financial statement for the year.
Built in 1919 and designed by architect John W. Woodman of Winnipeg, this building was once the tallest in Toronto. Active until 2006, it was originally a factory that produced aluminium products for World War II and later made items such as kitchen tools, bottle caps and car parts.
When it opened one hundred years ago, this building was considered innovative because it did not use beams for support. Instead, it pioneered a new approach called concrete flat slab architecture. Each floor is a slab of reinforced concrete and is supported by concrete columns — the "mushrooms" you see on each floor distribute the weight to the floor below.
Once an example of innovation and now a heritage building, the Auto BLDG houses the most innovative ideas and art in the city.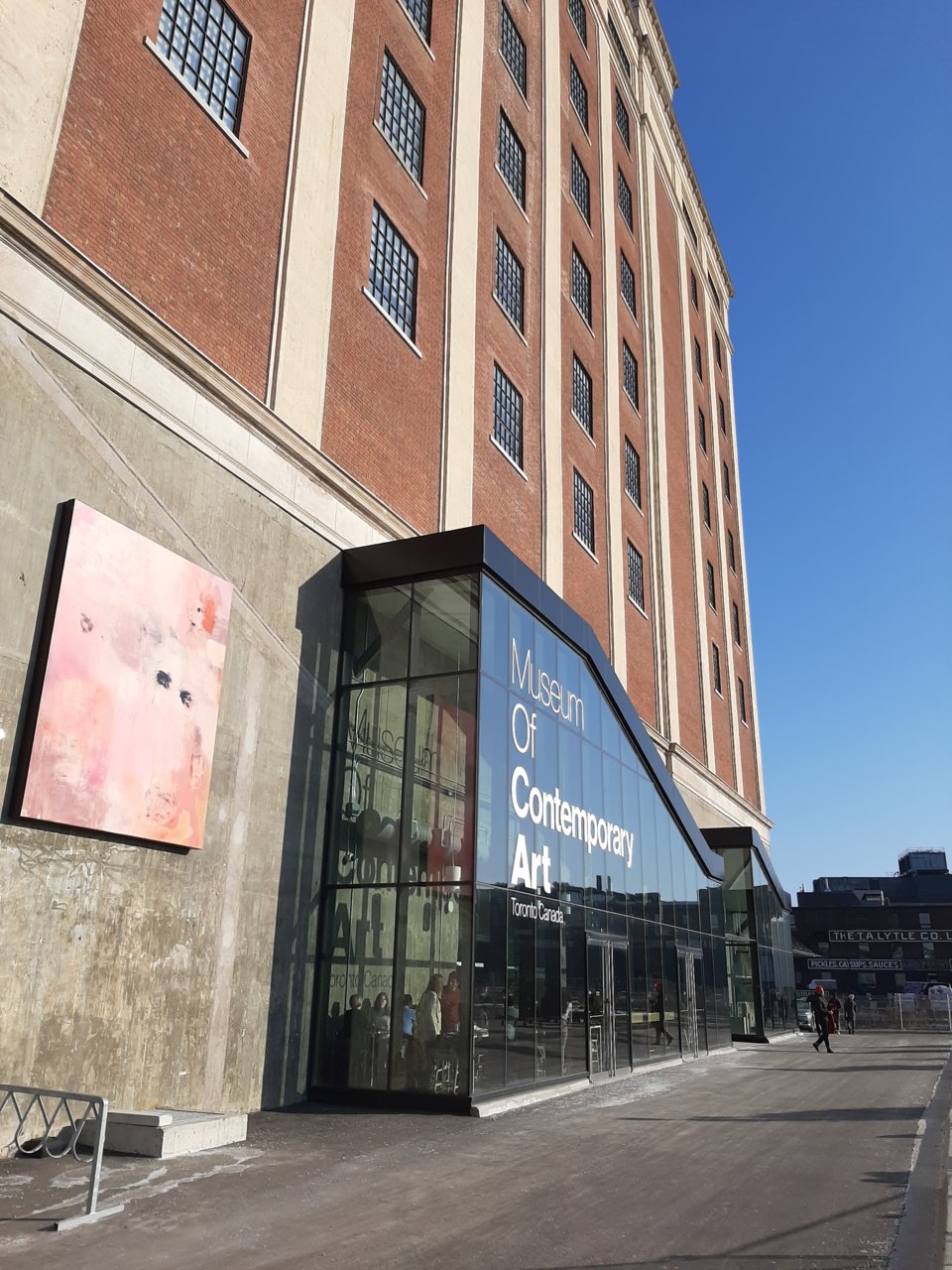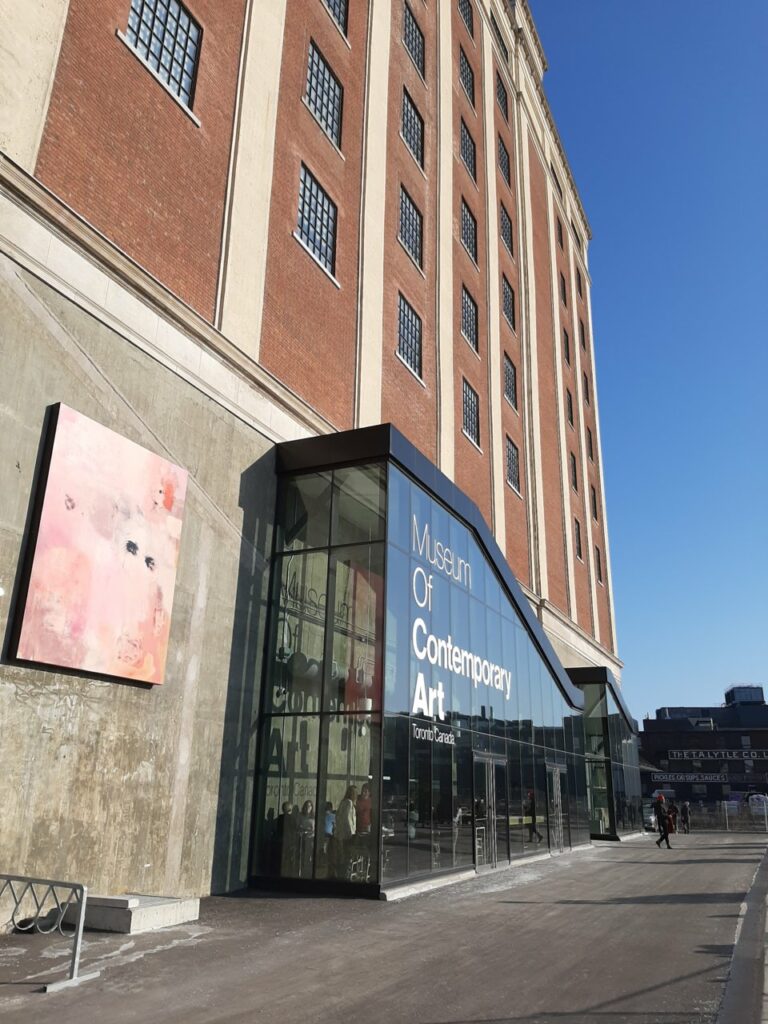 The Museum of Contemporary Art Toronto respectfully acknowledges that the Museum is located on the traditional land of the Mississaugas of the Credit First Nation, a place on which the Anishinaabe, the Chippewa, the Haudenosaunee, and the Wendat peoples have creatively expressed themselves since time immemorial.
Through our work and relations between people, cultures, geographies, outlooks, approaches, and natural forces, we recognize the importance of always reflecting on the continuing impacts of colonization. We acknowledge that legacies of colonialism are embedded within the institutional systems we work within today. It is more important than ever to question, deconstruct, and reimagine these structures and systems by putting equity, diversity, inclusion, justice, and Indigenous Truth and Reconciliation at their core.
As a cultural producer, we acutely acknowledge that Indigenous peoples have been uprooted, forced to adopt new languages and beliefs, and forbidden to perform their rituals and art in their homeland. We acknowledge that Indigenous peoples and land allies have long defended and nurtured our natural resources, co-habitants, and climate. We recognize their role and knowledge in forging a more sustainable future and the urgent need to heal and protect the land and the biodiversity it nourishes.
Today, many diverse First Nations, Inuit, and Métis people continue to thrive on this land. Tkaronto/Toronto, identified in the Museum's official name, refers to a place where truths continue to unfold through art, activism, and ceremony. We honour these histories and our collective responsibility to protect and nurture the land and recognize Indigenous voices throughout the Museum's programming.
Intervening a Sudden Beginning. I/O Movement performance in the work of Carlos Bunga, February 5, 2020. Photo by Gabriel Li.