Mika Rottenberg's exhibition Spaghetti Blockchain opened at MOCA on November 12, 2020 and runs through April 11, 2021. Due to the current closure of the Museum, Rottenberg kindly agreed to an online screening of her most recent video work Spaghetti Blockchain (2019)—co-produced by MOCA giving the exhibition its title—along with a selection of older works that bring more context for our audiences.
Employing absurdist satire to address critical issues of our time, New York-based artist Mika Rottenberg (b. 1976, Buenos Aires, Argentina) creates videos and installations that offer subversive allegories for contemporary life. Her investigations reveal the unseen connections between the basic or "easy" items that we manipulate and consume almost without thinking—from luxury goods and plastic knickknacks to emails, Bitcoin, and particle beams—and matters of the universe beyond our control. She considers our interactions with matter, while questioning human attempts to explain the inexplicable.
All videos courtesy the artist and Hauser and Wirth.
Spaghetti Blockchain, 2019
Single-channel video, sound, colour; approx. 18′15″
Rottenberg's most recent video, Spaghetti Blockchain, considers the continually evolving relationship between humans and the material world. In Spaghetti Blockchain, the first work discussed with the curatorial team at MOCA, giving the current exhibition its title, energies and objects transport and transform across states of matter.
The artist weaves together images and sounds from myriad sources: Tuvan throat singers in Siberia, the CERN antimatter factory in Switzerland, a potato farm in Maine, and an imagined factory with tabletop vignettes for producing ASMR (autonomous sensory meridian response). As with a blockchain, the systems and narratives Rottenberg presents do not culminate, but feed into one another in perpetuity. The deep, guttural overtone produced by a Tuvan throat singer in the vast Siberian countryside travels through a makeshift, rotating hexagonal structure to an antimatter factory, where giant servers power multicolored wires and an array of materials are melted, cut, sprayed, kneaded, smashed, and scored.
The work was produced by the Museum of Contemporary Art Toronto; Arts at CERN, the arts program of the European Laboratory of Particle Physics, Geneva, with the support of the Permanent Mission of the United States to the United Nations, Geneva; Sprengel Museum, Hannover, with the support of Niedersächsische Sparkassenstiftung; and New Museum, New York.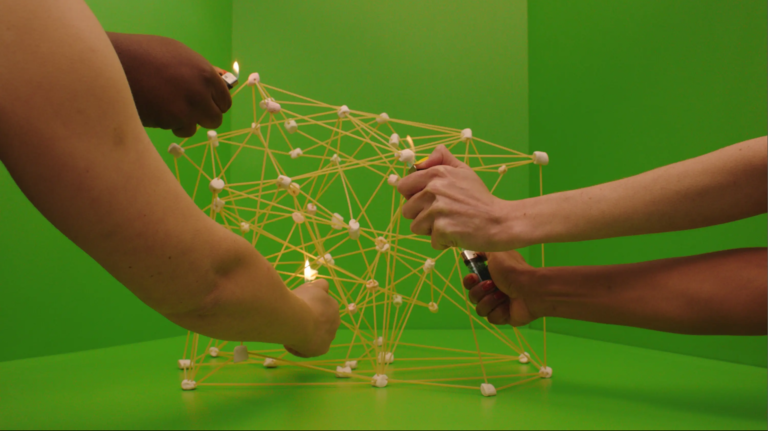 Producer and Director of Photography: David Hollander (Fourth Density Productions)
Cast: Tyva Kyzy (Choduraa Tumat, Aylanmaa Damyran, and Sholbana Belek-ool), Tabia Wood, Fatima Jamal, Tal Ben Menashe, Meandra Nel, David Stern, Paul Vranesevic, and Joshua Sullivan
Director of Set, Props, and Special Effects: Katrin Altekamp (4DEE Productions)
Camera: Marcin Kapron, Marcus Brooks, and Yuri Burak
Digital Imaging Technician: Loïc de Lame (Laryenco Production)
Additional Production Support: John C. Warren (Brooklyn Image Productions)
Gaffer: Alan Hostetter
Sound Recording: Vasily Amochkin (Sound Around Studios)
Production Manager: Natalia Almada
Production Assistant and Special Effects: Jake Couri
Production in Russia: Masha Keder
Production in Switzerland: Mónica Bello and Arts at CERN
Production Intern: Madeleine Kozma
Special thanks to Green Thumb Farms
Single-channel video, sound, colour; 3′02″
In the single-channel video Sneeze, suited, barefoot men with large reddened noses sit at a wooden desk in a stark room. Anticipating a sneeze, they curl their painted toes, scratching the floor. Finally, their noses twitch and expel bizarre objects onto the desk, from bunnies to rare steaks and even a lightbulb. While it is clearly impossible for the human body to sneeze out such things, Rottenberg suspends disbelief with cinematic tricks like quick cuts between images and clips of visceral sound. Vivid sensory manipulations—the hair-raising squeak of toenails on linoleum, the plop of rabbits and steaks falling onto the desk—provoke a physical response in viewers.
Sneeze shares its subject with the oldest surviving motion picture on record, Thomas Edison's Fred Ott's Sneeze (1894), a silent five-second production in which Edison's assistant takes a pinch of snuff and sneezes. Like Fred Ott's Sneeze, Rottenberg captures a moment of climactic release—an involuntary reaction caused by an irritant. Her video probes the space between calculated control and instinctual action to discover what happens when the thinking mind is suspended and focus shifts to our physical properties.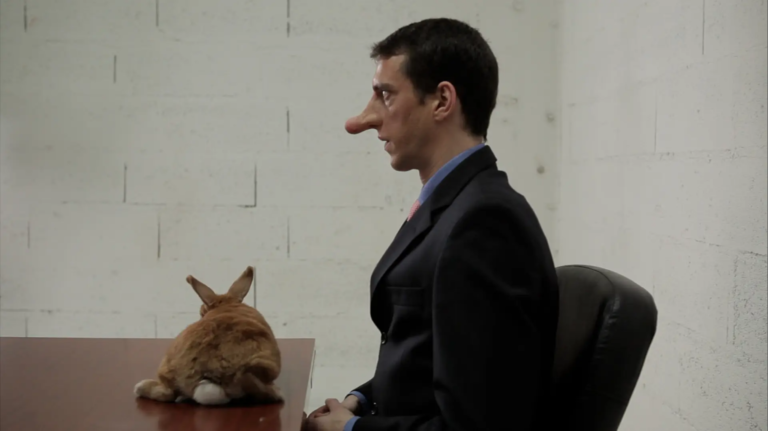 Cinematography: Mahdi Lepart
Cast: Édouard Achache, Gabriel de Pimodan, and Gaetano Lucido
Makeup Artist: Jérôme Jardin
Sound Design and Mix: Ronen Nagel and Nati Taub (Sound Around Studios)
Producer: Mitra Hekmat
Bowls Balls Souls Holes, 2014
Single-channel video, sound, colour; 27′54″
Inspired by what the artist terms "the production of luck," Bowls Balls Souls Holes is set primarily inside a bingo hall in Harlem. The video includes regulars of the bingo hall – mostly women – as well as Gary "Stretch" Turner, the Guinness World Record holder for the most clothespins pinned to one's face. The work imagines different possibilities for what it could mean to produce – and consume – luck, as the camera circles around labyrinthine sets in which holes begin to appear everywhere and even individuals start to spin like balls.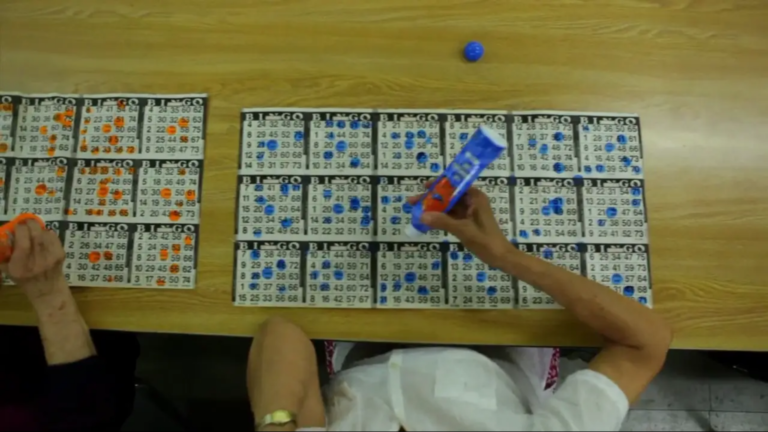 Single-channel video, sound, colour; 4′51″
In Dough, a team of women stretch and pull a string of dough through a series of enclosed factory compartments. Many of Rottenberg's video installations star individuals who independently market and perform their unique physical qualities to explore, particularly the female body, as a microcosm of larger societal issues such as labour and class inequities. Here, Queen Raqui, a "squasher" and female pro-wrestler within the plus-size community, features at the centre of the video as a kneader and director of the dough. When a bouquet of flowers is placed before her, a chain reaction is initiated and, in turn, causes the dough to rise. Equating industrial and bodily processes, the journey of the fleshy dough alludes to digestion, excretion, and birth.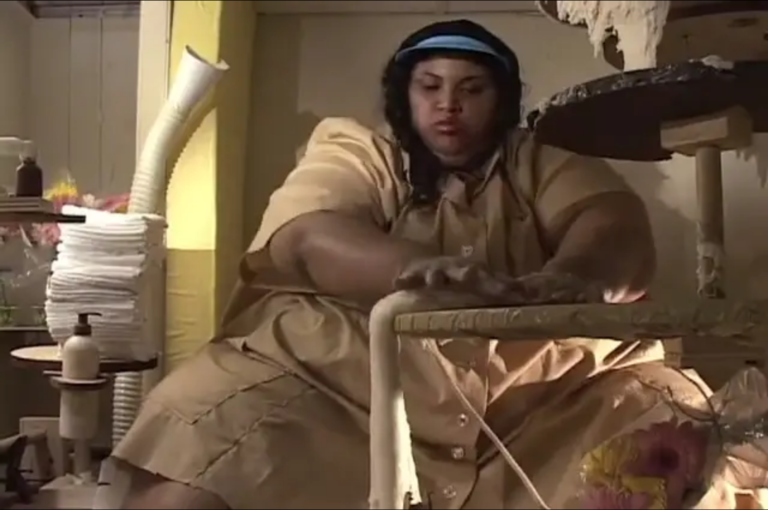 Single-channel video, sound, colour; 5′50″
Mary's Cherries presents a bizarre factory in which a group of women work to transform fingernails into maraschino cherries. The fictional process begins with "Mary" growing her cherry red nails. She manually harvests the nails and sends them to another floor of the "factory." The next stage of the production line sees the fingernails moulded into the final product, a maraschino cherry. As in many of Rottenberg's video works we are presented with a cyclical production line where the work continues to repeat ad infinitum.