TORONTO, September 18, 2018 — The grand opening of the Museum of Contemporary Art (MOCA) Toronto will take place with a community celebration on September 22nd. MOCA will be a community hub in the Junction Triangle, an area home to an expanding critical mass of creative businesses and activity that boasts one of the highest number of artists per capita in the country. MOCA's transformative role as a catalyst for neighbourhood development began on Queen Street West and will be replicated and expanded in their new home on Sterling Road. The former MOCCA announced its move from Queen West to Sterling Road in 2015 to make way for condo development.
MOCA Toronto will be spread over 55,000 square feet of space between five floors encompassing two main exhibition floors as well as smaller program spaces, all of which will invite collaboration and conversation.
MOCA Toronto's opening has been made possible due to the many likeminded partners and donors who have contributed to the $25 million Tomorrow of Contemporary Art campaign. Funds raised to date include $11.9 million from private donors/sponsors and $6.1million from government sources including the Government of Canada's Canada Cultural Spaces Fund and the Government of Ontario's Ontario Cultural Attractions Fund. Working in collaboration with architectsAlliance and ERA Architects to design the space and Castlepoint Numa and Greybrook Realty Partners on the redevelopment plans, MOCA has been able to create a permanent home.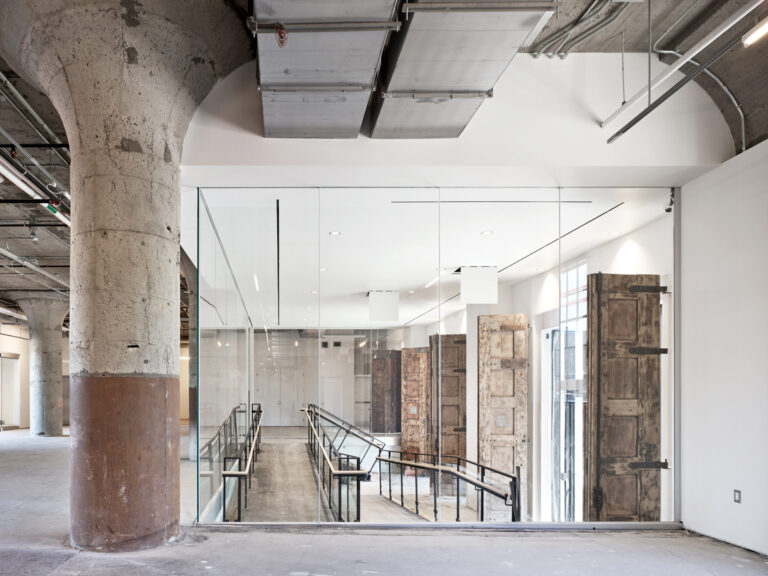 "We are extremely grateful to our federal, provincial and city partners, as well as many private and corporate donors, and the staff, board members and volunteers who have worked so hard to get us to the finish line," says Executive Director and CEO Heidi Reitmaier. "Today's events culminate a visionary, multi-year process for everyone involved and we're beyond thrilled to reveal this unique, wonderfully restored building and our exciting inaugural exhibitions on all five floors to the public and our guests from across Canada and around the world."
The floor one of the museum will be a free space for the community to gather. During the first year of MOCA Toronto's opening, guests will be able to use their imaginations to create their own area to gather. Greek artist Andreas Angelidakis was commissioned to create Demos – A Reconstruction, consisting of seventy-four modules that can be moved and recomposed by the public to create different structures, such as walls, amphitheatres, or even stages. Floor one will also include café partners Forno Cultura, bookstore Art Metropole.
MOCA's inaugural exhibition BELIEVE, spread over floors two and three, will feature 16 Canadian and international artists and explore the beliefs and systems that inform our values and behaviours. Artists include Jeneen Frei Njootli, a Vuntit Gwich'in artist who has been hailed throughout Canada for her work in deconstructing materials from history to reclaim her past. Los Angeles-based artist Barbara Kruger is celebrated for a lifetime of work that forces viewers to revisit what they believe they know, currently through large installations that surround the viewer with language. Awol Erizku's art is dedicated to the often-missing representation of people of colour, such as in his well-known work portraying classic portraits with black figures.
Half of floor four will be dedicated to Art in Use, a project conceived in dialogue with celebrated Cuban American artist and activist Tania Bruguera and the Association of Useful Art. This yearlong series opens with artists Hiba Abdallah and Justin Langlois (with furniture by Adrian Blackwell) and invites the public to participle in workshops and special projects that will explore how art drives social and political change.
As part of commitment to local community partnerships, the rest of floor four is devoted to the Akin Studio Program. The program will provide spaces to 32 local artists on a one-year studio residency where they will benefit from producing work within the midst of MOCA. In addition, one studio hosts artists in collaboration with the Ontario Science Centre, where work produced will explore the intersections of art, science and technology for display at the Science Centre. 
Andy Holden presents Laws of Motion in a Cartoon Landscape on the floor five: an exhibition of moving image works that Holden describes as "a lecture on cartoons, and also a cartoon lecture, guiding viewers through an animated landscape populated by well-known characters including Bugs Bunny and Wile E Coyote."
In the words of Reitmaier, "This new home for MOCA Toronto in the city's Junction Triangle neighbourhood has been lovingly restored over the last three years and is now ready share with everyone its creativity and potential."
About MOCA Toronto
MOCA Toronto reopens in its new 55,000 square foot home in the Junction Triangle on September 22, 2018. Under the leadership of Executive Director and CEO, Heidi Reitmaier, the new MOCA Toronto is a place of conversation, exchange and exploration where visitors of all ages and backgrounds can be part of a global creative moment.
MOCA welcomes visitors to three phases of exhibitions a year featuring work from Canadian and world-recognized artists that explores the themes of our time. Located on Sterling Road, in the culturally rich Junction Triangle community, the museum is housed on the first five floors of the historic Tower Automotive Building, a former aluminium factory known for its unique architecture.
The evolution of the Museum of Contemporary Art Toronto Canada is made possible through a unique alliance with Castle Point Greybrook Sterling Inc., public sector funders, private donors, members, sponsors and a network of cross-sectoral partners. For more information on MOCA Toronto visit moca.ca.
Media Contact
Rachel Hilton
Director of Communications and Visitor Experience
rhilton@museumofcontemporaryart.ca