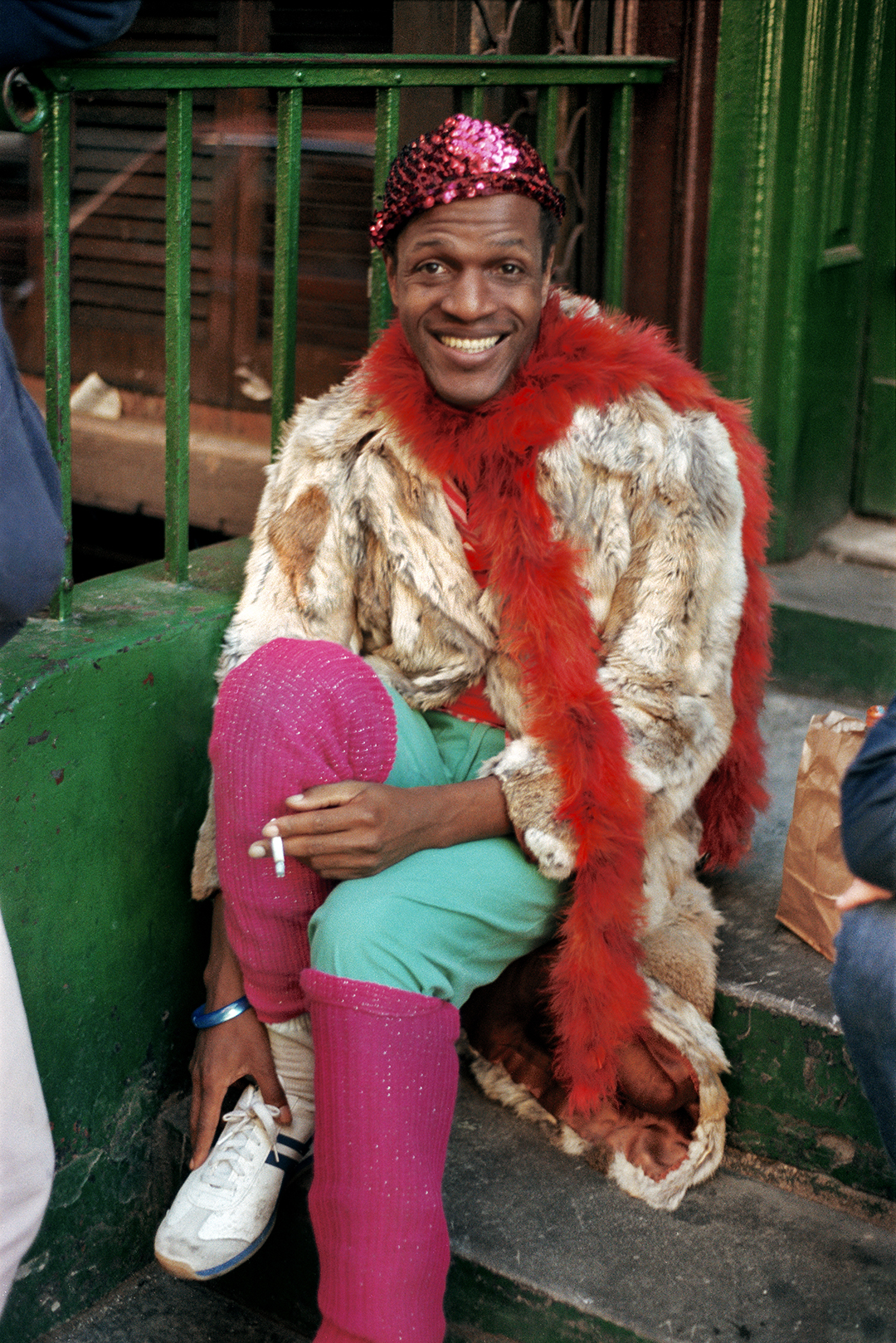 In honour of Pride, this week's Shift Key offering differs from previous weeks. Rather than a video, film or moving image work, we have chosen to put forward a single still image.
This picture is of Marsha P. Johnson in 1982, captured by Toronto street photographer Gun Roze, on one of his trips to Manhattan. A visitor to New York City at the time, Gun was unaware of Johnson's political and social impact. Strolling along Christopher Street, he recalls being attracted to her whimsy and magnetic energy, leading him to ask Johnson's permission to take this photograph. It was only later, when his negative scans were being retouched, that he learned through his technician he had photographed the Marsha P. Johnson. And the "P" in her name? It stands for "Pay it no Mind."
Marsha "Pay it no Mind" Johnson (1945-1992), who once went by the name, "Black Marsha," was a black, queer, gender-nonconforming activist, hustler and drag queen. Alongside Stormé DeLarverie (1920-2014) and Sylvia Rivera (1951-2002), Johnson is a prominent figure of the Stonewall Riots (June 28, 1969), a pivotal act of resistance against the police for the liberation of 2SLGBTQIA+ people. In 1970, Johnson and Rivera founded STAR, the Street Transvestite (now Transgender) Action Revolutionaries, an organization that supported and advocated for transgender youth experiencing homelessness. The rights of sex workers and prisoners were causes Johnson fought tirelessly for at the same time. In the 1980s, she directed her outspokenness, sensitivity and zeal towards AIDS activism, joining forums and organized protests by the AIDS advocacy group, ACT UP. In one of her final interviews on June 26, 1992, Johnson revealed that she had been living with HIV since 1990.
On July 6, 1992, Johnson's body was discovered in the Hudson River near the Christopher Street Piers. Her cause of death was first treated as a suicide and then later declared undeterminable. Transgender activists Mariah Lopez and Victoria Cruz, as well as those close to Johnson, have challenged these closing statements and continue to seek justice for her life. In 2012, the case was reopened by the New York Police Department due to Lopez's lobbying and fervour.
Marsha P. Johnson's life too has opened up. Gun's photograph is one of several newly available sources—articles, artworks, audio and video recordings, documentaries and essays— that have enabled her many layers and self-images to unfold to a wider audience. These materials have awakened new generations to the recognition owed to Johnson, to transgender individuals and trans people of colour, whose defiance, steadfastness and truths have collectively produced an extraordinary movement. Something to be honoured, protected and expanded upon.
For further information on Marsha P. Johnson, queer culture and resources for supporting our 2SLGBTQIA+ community, we encourage you to explore our diverse, incomplete list here:
What does 2SLGBTQIA+ stand for?
Two Spirit, Lesbian, Gay, Bisexual, Trans, Queer, Intersex, and Asexual peoples, as well as those who identify as non-binary, pan-sexual, other gender and sexual minorities, as well as questioning.
Disclosure: Trans Lives on Screen, featuring Yance Ford, Laverne Cox, Chaz Bono, Candis Cayne and Jen Richards. A film created by Sam Feder and Amy Scholder.
Paris is Burning, featuring Venus Xtravaganza, Willi Ninja, Pepper LaBeija and Octavia St. Laurent. A documentary by Jennie Livingston.
Pose, featuring Dominique Jackson, MJ Rodriguez, Indya Moore and Billy Porter. A television series created by Ryan Murphy, Brad Falchuk and Steven Canals.
Queer Culture and Archives