Featuring solo exhibitions of work by Shirin Neshat, Felix Gonzalez-Torres, and a major new co-commission with the Toronto Biennial of Art by Jeffrey Gibson
TORONTO, March 10, 2022 – The Museum of Contemporary Art Toronto (MOCA) today launched its Spring programming featuring major solo exhibitions by Iranian-born, New York-based artist and filmmaker Shirin Neshat – her first major exhibition in Canada in 20 years – artist Jeffrey Gibson, a Member of the Mississippi Band of Choctaw Indians and Half Cherokee, and Cuban-born, American artist Felix Gonzalez-Torres. After being closed for several months due to the pandemic, today marks the kick-off to the official start of the Spring season. The exhibitions will run from today through to July 31, 2022.
The exhibitions featured are independent presentations – each one unique in terms of medium and aesthetic language – yet they share a common theme that delves deeply into our connections (and disconnections) to place. There is also a profound sense of generosity and openness to these artists' works, a desire to share or involve other's stories and narratives, from the participatory choices that Gonzalez-Torres invites, to the individuals whose emotional portraits frame Neshat's Land of Dreams (2019) and the open call to artists, inclusion of books, performances and more within Gibson's exhibition I AM YOUR RELATIVE (2022).
"At MOCA, we endeavour to pursue the latest developments in international contemporary art practices while celebrating Toronto's creative and cultural complexities," says Kathleen Bartels, Executive Director and CEO, MOCA. "Continuously assessing the diversity and accessibility of our programmes to ensure relevancy with the audiences and communities we serve is at our core, particularly during these challenging times. The artists we are presenting this Spring bring new perspectives on the most relevant issues of today, and MOCA is thrilled to be a conduit for reflection and conversation."
Programming details below. For more information or tickets, visit www.moca.ca.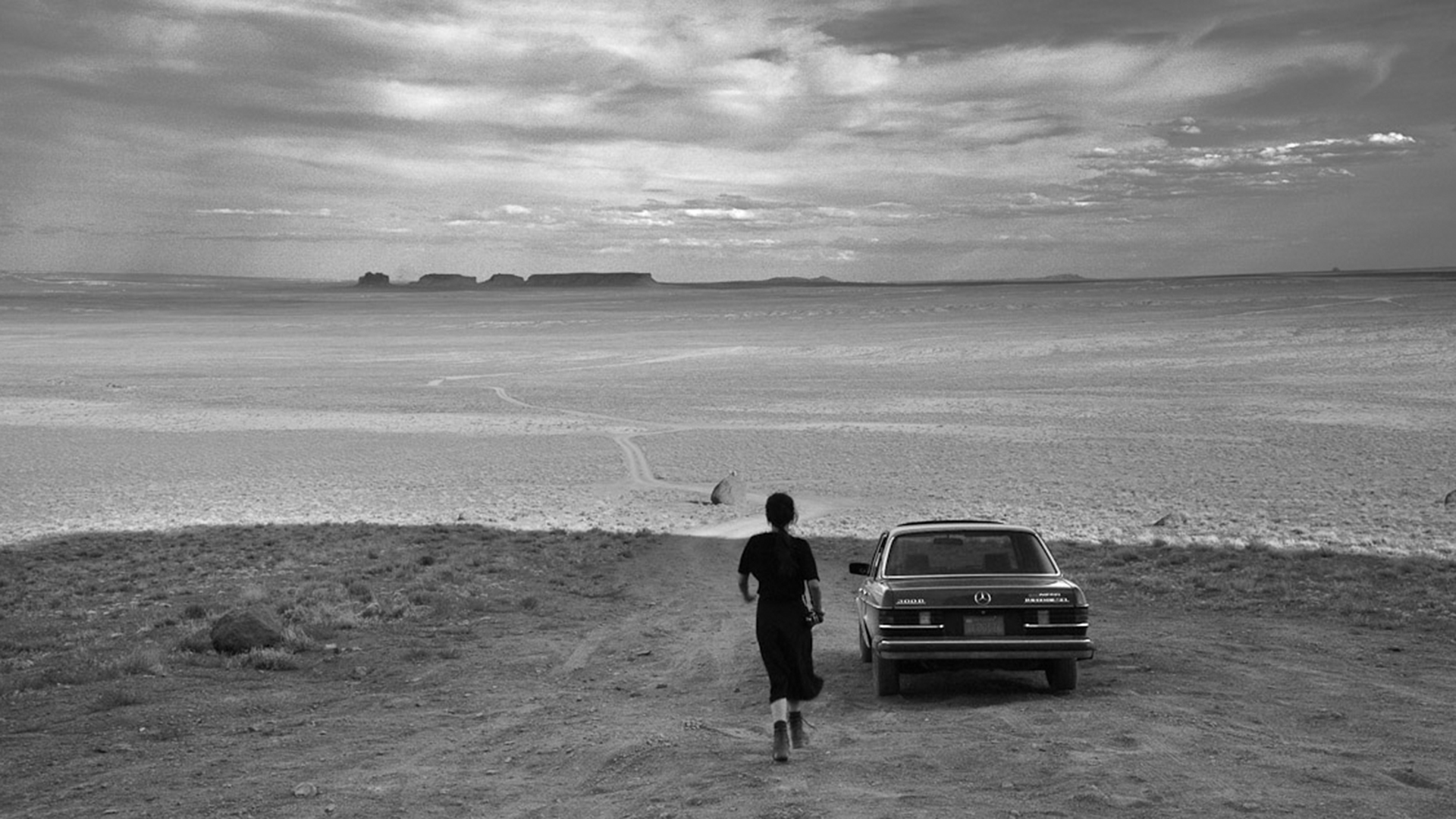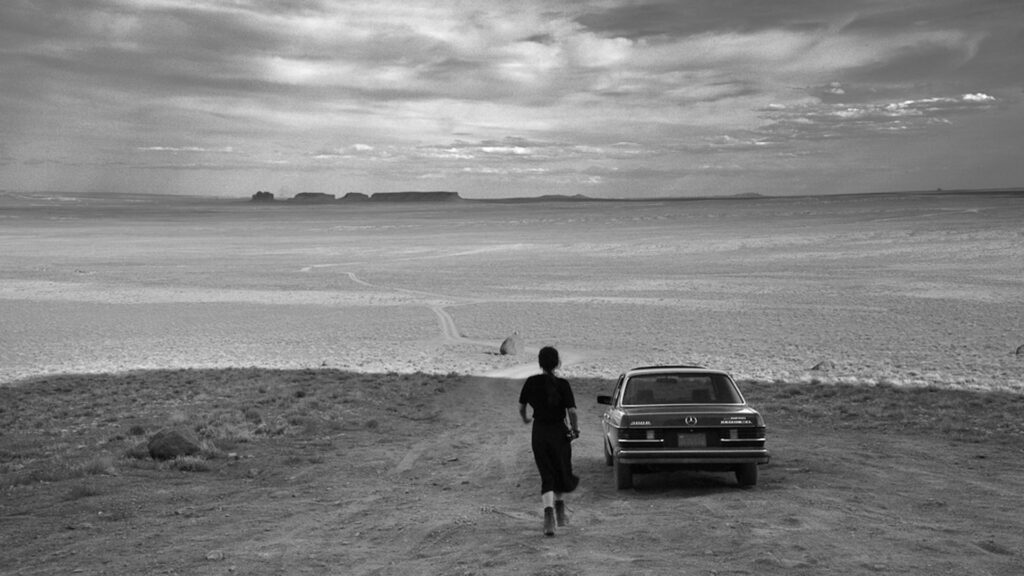 Shirin Neshat, Land of Dreams, 2019
Video Still Courtesy of the artist, Gladstone Gallery, New York and Brussels, and Courtesy Goodman Gallery, Johannesburg, Cape Town, and London
Land of Dreams – Shirin Neshat
Land of Dreams — Shirin Neshat's first major exhibition in Canada in twenty years — reveals the convergence of photography and film in her art and brings together a range of work in one immersive experience.
Neshat's artistic practice has evolved over three decades from reflections on her Iranian heritage and that country's political injustices, such as how women are treated, to embrace global issues of displacement, migration, and geopolitical conflict stemming from her perspective living and working in the United States.
I AM YOUR RELATIVE – Jeffrey Gibson
Jeffrey Gibson, an interdisciplinary artist based in Hudson, New York, makes reference to various aesthetic and material histories rooted in the Indigenous cultures of the Americas and in modern and contemporary subcultures.
For the exhibition I AM YOUR RELATIVE, a co-commission with the Toronto Biennial of Art, Gibson has created a new site-specific installation that is vibrant and friendly in character and is open to change over time.
The brightly coloured stages can be moved and reconfigured for spontaneous gatherings and organized performances within the Museum. Posters, textiles, and stickers designed by Gibson adorn surfaces throughout the space.
This visual archive, which prioritizes Indigenous, Black, Brown, and queer voices, speaks to strategies of storytelling and place-making and to what histories are remembered and how.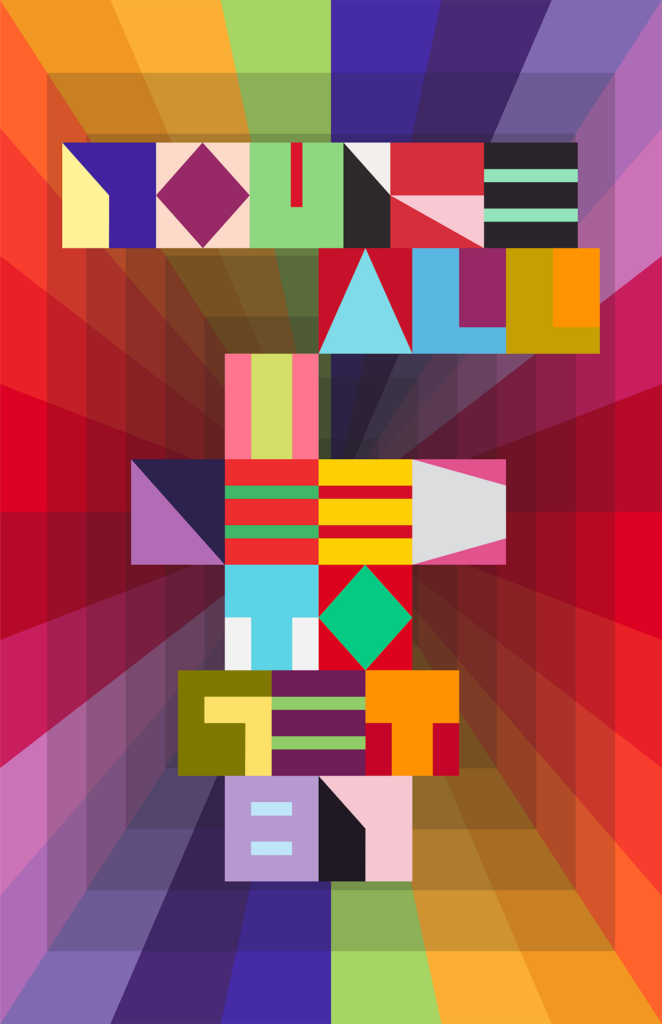 Jeffrey Gibson, YOU'RE ALL I NEED TO GET BY, 2022
Courtesy of Jeffrey Gibson Studio, Kavi Gupta Gallery, Roberts Projects, Sikkema Jenkins & Co., and Stephen Friedman Gallery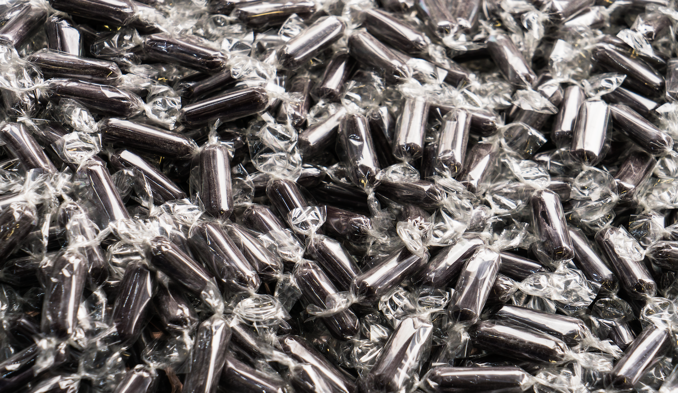 Felix Gonzales-Torres, "Untitled" (Shield), 1990
C-print jigsaw puzzle in plastic bag
7 1/2 x 9 1/2 inches, Edition of 3, 1 AP
© Felix Gonzalez-Torres
Courtesy of the Felix Gonzalez-Torres Foundation
Photo: Lance Brewer
Summer – Felix Gonzalez-Torres
Felix Gonzalez-Torres was an artist, educator, writer, and activist.
This curated arrangement of artworks, titled Summer, establishes local resonances and generates new reflections on our relationship to the landscape, what the artist once alluded to as being not only the natural environment but also our "cultural concerns, political realities, and civic issues."
It embraces the spirit of transformation, the beauty and disquiet of being in one set of circumstances while longing for others. As the seasons change in Toronto, so too will the exhibition. When daylight extends and temperatures rise, the artworks will morph and migrate to new locations in the museum; consequently, the exhibition title will shift from Summer to Winter.
Dhamakedar, Superstar! – Maria Qamar
North End Gallery
Artist and author Maria Qamar's exhibition Dhamakedar, Superstar!, is a specially conceived composition of new artworks that include painting, a lenticular print, vinyl installation and seating area. The project centres around a starry-eyed woman declaring her love for a superstar. The main protagonist is also featured on the Museum's exterior lightbox in In Pyaar With a Superstar! (2022).
Maria Qamar as a first-generation Canadian from a traditional South Asian family who moved to Ontario (Scarborough and then Mississauga) at the age of nine, who often offers a commentary on racism (based on her experiences as a young girl in a post 9/11 world), classism, and the patriarchy alongside reflections on the hybridization of South Asian and Canadian culture.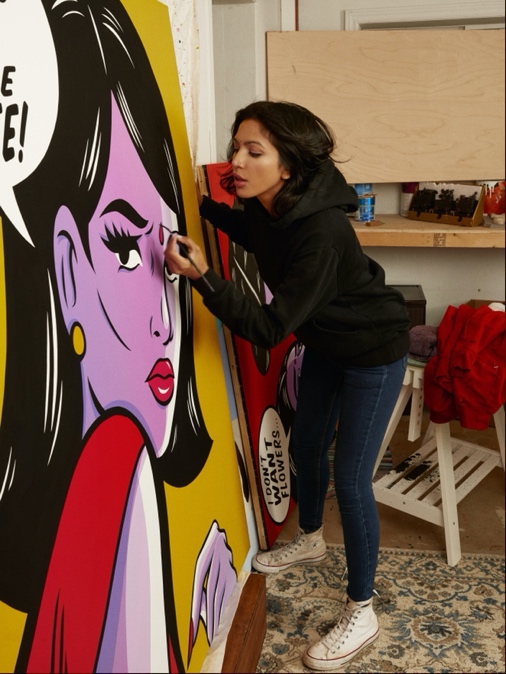 Maria Qamar in her studio.
Photo: Eddie O'Keefe.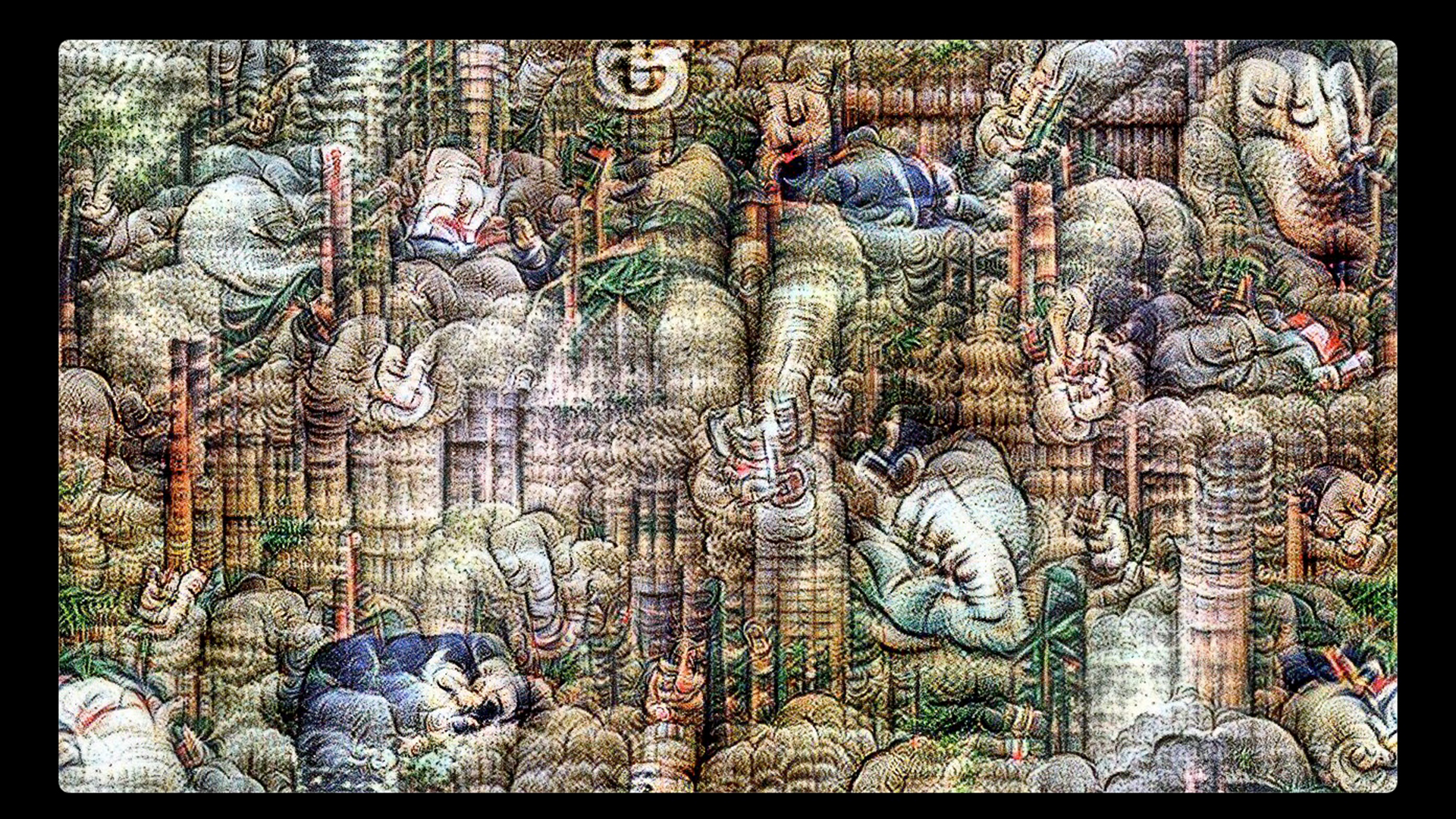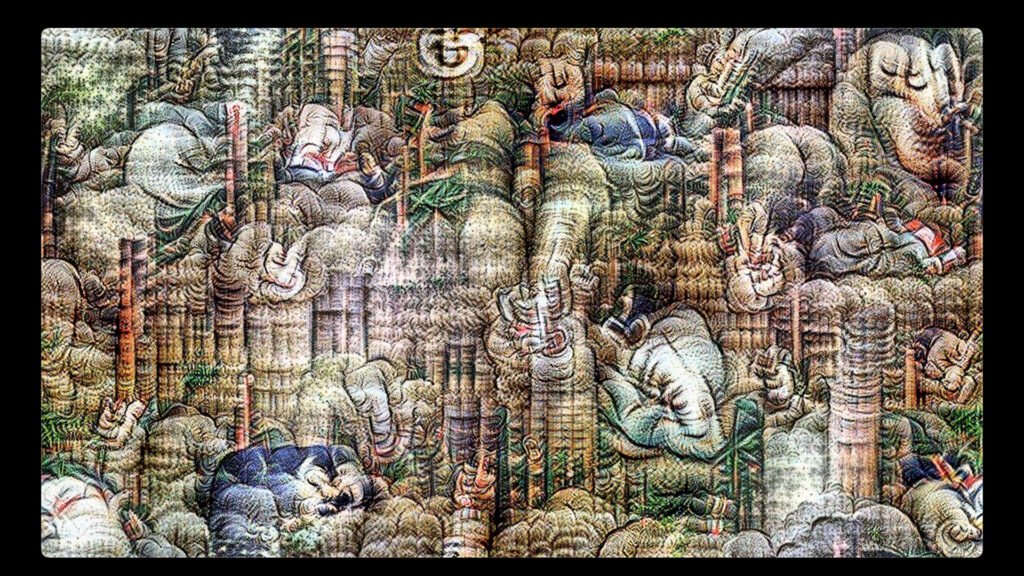 Debashis Sinha, The Elephant Headed God Ganesh Sleeps in the Bamboo Grove (neural network output image), 2021.
in the house's endeepened wide gracious flow – Debashis Sinha
South End Stairwell
In 2021, MOCA launched a series of sound commissions that are experienced in the Museum's South Stairwell and online.
Next in the series is a commission by Debashis Sinha. His new work in the house's endeepened wide gracious flow is a collaboration with artificial "intelligence" readings and systems. The work proposes a space of contemplation and spiritual imagining, presenting possibilities of introspection.
The title has been generated from training a recombinant neural network on the foundational Hindu text Rig Veda. Debashis has also been invited to create new video works for MOCA's platforms that continue his series of Short Machine Learning Fables.
To mark the opening of Iranian-born artist and filmmaker, Shirin Neshat's exhibition Land of Dreams, MOCA will be hosting a conversation featuring Neshat and Kurdish-born Canadian filmmaker Zaynê Akyol at the Paradise Theatre on March 10. The conversation will focus on the key themes and concerns of Neshat's practice that also feature within Akyol's research: including reflections on Neshat's Iranian heritage, global issues of displacement, migration, and women's rights. The conversation will be followed by a Q&A.
MOCA is extremely grateful to our Visionary Supporters, Gilles & Julia Ouellette and Visionary Corporate Supporter, Castlepoint Numa.
Exceptional exhibition support has been given by our Presenting Sponsor, BMO Financial Group.
Foundational support has also been generously provided by the Jack Weinbaum Family Foundation. Major exhibition support comes from Diana Billes, The Michelle Koerner Family Foundation, Maxine Granovsky and Ira Gluskin in memory of Tom Bjarnason, Liza Mauer and Andrew Sheiner, and Hesty Leibtag and Terry Verk.
These exhibitions have been financially assisted by the Ontario Cultural Attraction Fund, a program of the Government of Ontario through the Ministry of Tourism, Culture and Sport, administered by the Ontario Cultural Attractions Fund Corporation.
MOCA thanks the City of Toronto, the Government of Ontario, the Ontario Arts Council and the Canada Council for the Arts for their operating funding.
The Museum of Contemporary Art Toronto (MOCA) presents rotating exhibitions that prioritize twenty-first-century artistic production, primarily through commissioning of new work and providing a community space for enrichment, discourse, collaboration, and creativity. Artists, partnerships, experimentation, and reciprocal initiatives are at the center of the Museum's mission as a locally rooted and internationally connected organization. Focused on core values promoting equity, inclusion, access, courage, and responsibility, the Museum sparks critical conversations that challenge the current cultural moment. MOCA fosters active participation and engagement in order to serve as a welcoming cultural hub in the hyper-diverse city of Toronto.