March Break: Experimental Mark-Making with Nava Messas-Waxman
Join the MOCA team onsite for our March Break Programming from Monday, March 13 to Friday, March 17. The series of programmes, led by contemporary artist Nava Messas-Waxman, will explore mark-making as a response to one's environment and allow participants to experiment through dance, drawing, gesture and sound. 
Each day will feature a new activity which will make use of diverse mark-making techniques and materials and draw reference from a different exhibition theme. Participants are encouraged to register prior to the day of the programme. Registration is encouraged for the whole week, however, participants may enroll in individual days if preferred. Additional details regarding each activity can be found below. 
What is mark-making? 
Mark-making can be thought of as a gestural drawing language, and the various lines, marks, patterns and textures we use to make art. Loose, abstract, imaginary, gestural or conceptual markings are all acceptable. It can be applied to any material and used on any surface.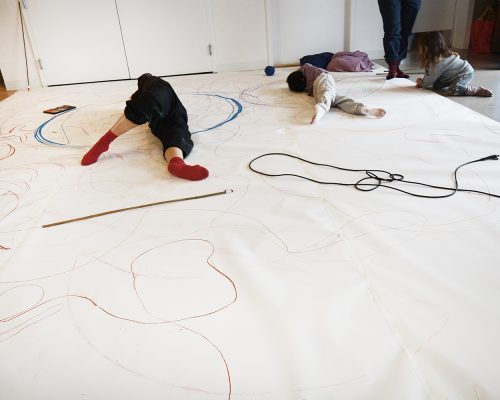 Nava Messas-Waxman is a multidisciplinary artist and researcher working with performance, choreography, moving-image and multimedia installation. Her work engages identity, memory, liminality and the body. Growing up in a Moroccan Judeo-Amazigh immigrant family shaped her interest in themes of movement, migration, diaspora, archive, time and space, delving into the transitory nature of gestures that are often embedded within complex artistic, cultural, and personal registers.
She is a doctoral candidate in Visual Arts at Toronto's York University. Messas-Waxman holds an MFA from York University in Visual Arts and a BA from The Open University in Social Science and Communication. Recent projects include Nuit Blanche Toronto Variations on Broken Lines for Nuit Blanche Toronto 2022, Shared-View (2022), Variations on Broken Lines ( 2020), and Choreographed Marks (2019). Messas-Waxman was the 2019 recipient of the Social Sciences and Humanities Research Council of Canada's Joseph Armand Bombardier Scholarship (SSHRC). In addition, she received an Exhibition Assistance Grant from the Ontario Arts Council (2018) and a Travel Grant from the Canada Council for the Arts for her collaborative project "Elements of Chance" (2016).